---
Reimagining Healthcare
The Jefferson Health Hackathon is a yearly, three-day event which happened from November 1-3, 2019. During this event teams gather to answer some of healthcare's biggest problems and prototype solutions to fix them. Each team selects one of three predetermined tracks and spends those next few days configuring their solutions. The 2019 Jefferson Health Hack themes this year for Reimagining Healthcare were "Health by Zip Code – Disparity Solutions," "What are you wearing? – Health Driven Wearables," and "Reimagining Death – Designing End-of-Life."
---
Jefferson Hackathon Tracks/Themes
In the first hackathon track, Health by Zip Code, participants tackled issues related to health care disparities, based on geography, and sought solutions on how to close those gaps. Their goal was to ensure that how long you live isn't related to where you live.
With the second track, Health Driven Wearables, teams sought to personalize medicine by constructing wearable technology.
In the final track, Reimagining Death, participants sought to uncover solutions for comfortable end-of-life care, which has historically been a conversational taboo subject, but now has now shifted into an essential topic.
---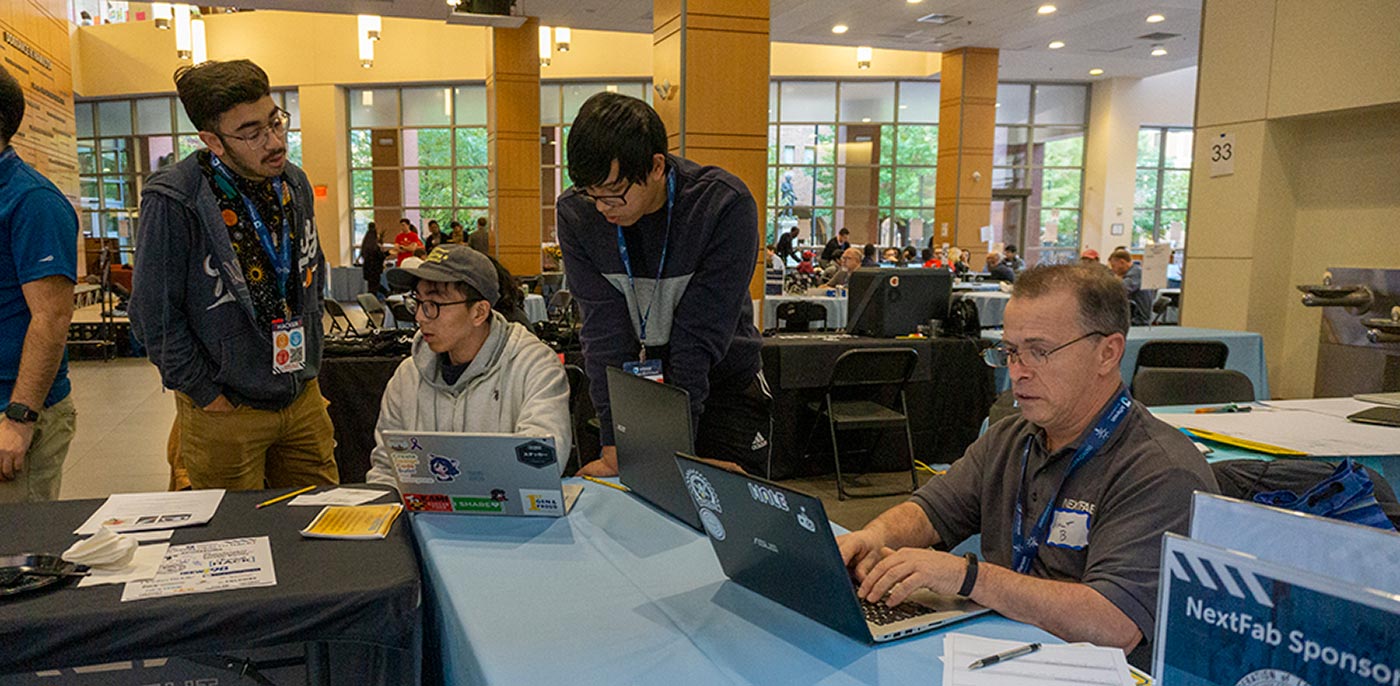 NextFab Contract Services team onsite at Jefferson.
---
NextFab – Jefferson Partnership
NextFab's partnership with the Jefferson Health Hackathon started in 2015, as NextFab's fundamental mission lies in making things to solve problems. Product Development, NextFab's team of product designers and engineers specializes in turning ideas into successful products, and were instrumental in this partnership. Every day this team works with clients in the early stages of product development, to determine the best development strategy, and apply their expertise in how to solve that problem. Our Product Development team was at the core of helping facilitate NextFab's portion of the Hackathon, providing consultations onsite at Jefferson, and then inviting several teams back to our headquarters to transform their ideas into reality.
---
Health Driven Wearables
One such team chose the Health Driven Wearables track, seeking a solution to lead screening in infants. Typically, blood lead level tests are implemented at 12 months of age, but this team questioned whether there could be a quicker and easier solution. After conferring with our consultants onsite, they came up with a sketch of a pacifier with a lead testing capability, realizing they didn't need to reinvent the wheel and could integrate their designs into an existing pacifier model. In our 3D printing lab, staff helped the team set up a 3D CAD file to print this design on a Lulzbot printer, and they walked away happy after successfully printing their idea on the first try.
Another team that chose the Heath Wearables track selected stress management, a healthcare problem that 55% of Americans suffer from every day. To help alleviate some of that everyday pressure, this team configured a user-controlled compression garment, which participants could discreetly wear. Since studies have shown that compression of certain areas of your body can relieve stress, this garment would allow users to compress their stress easily and immediately. At NextFab, this energetic team mocked up a wearable garment, with contributions from our team, such as utilizing advanced materials, like shape memory alloys, to achieve the perfect compression.
---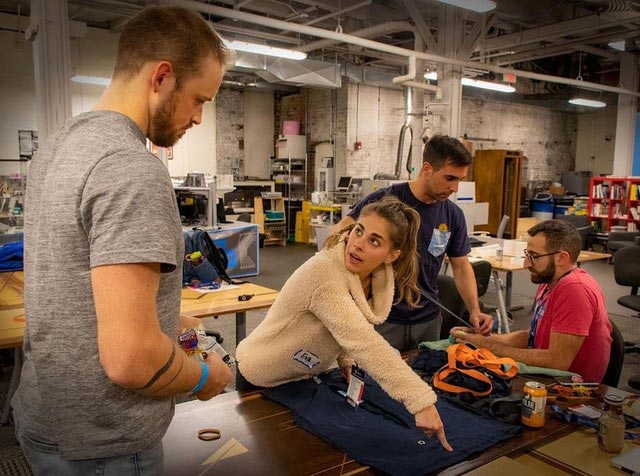 The "Wearables" Team constructing their compression garnet.
---
Health by Zip Code
In the Health by Zip Code – Disparity Solutions, another participating team questioned the equality in available nutritious food for residents in all zip codes. They noted that fast food can often be cheaper (and far less nutritious) than healthy food options. To create more readily available fruits and vegetables, this team went back to school. Their idea was to integrate classrooms with vertical farms.
Vertical farming is the practice of producing food and medicine in vertically stacked layers. By placing vertical farms into schools, which are commonly present everywhere, they could alleviate the lack of readily available nutritious food. To turn their ideas into a workable solution, this team turned to our woodshop to create a mockup of what one of these classrooms would look like. Our staff helped complete their room setup with controllable LEDs integrated into their acrylic and MDF model.
---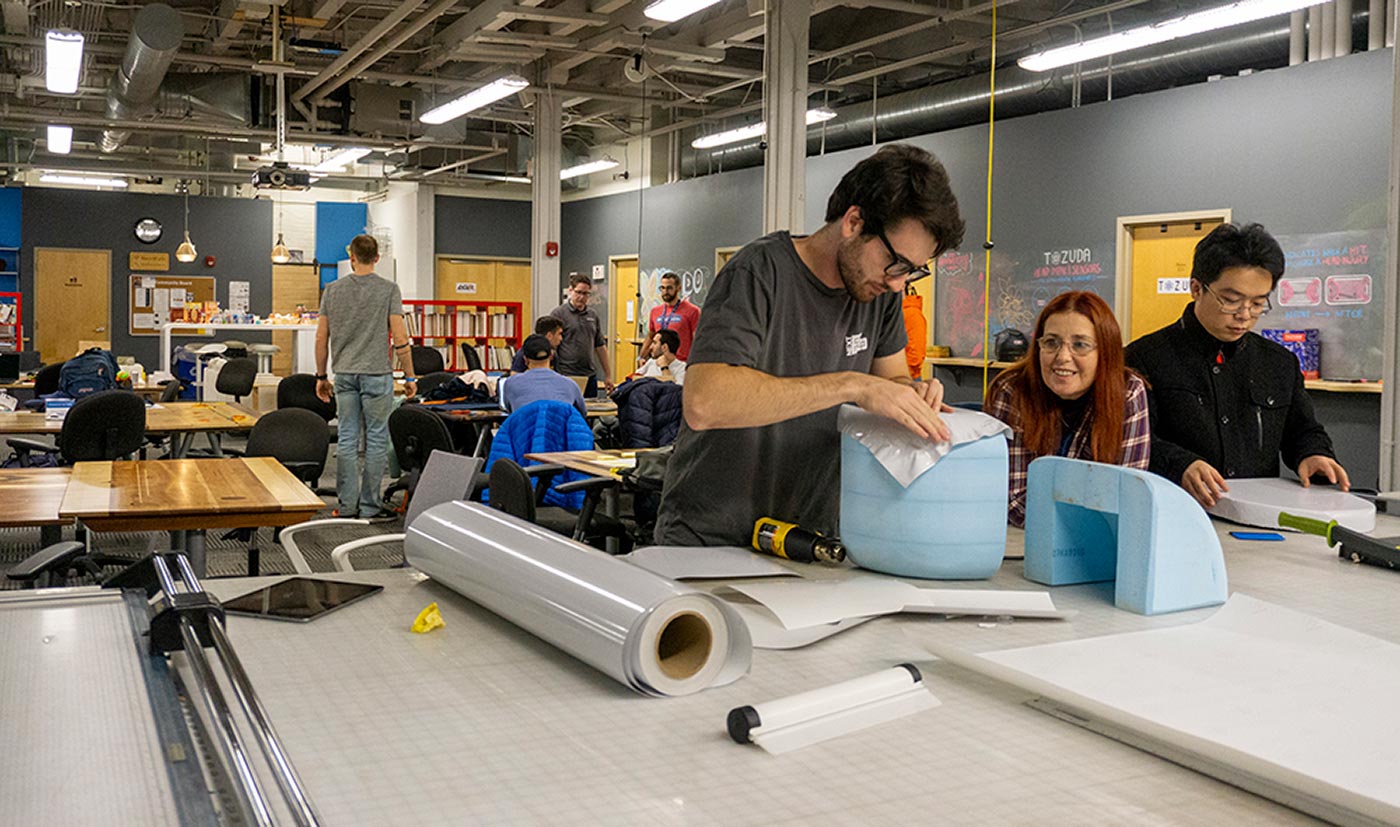 The "Wearables" Team constructing their final product.
---
Reimagining Death
The Reimagining Death track brought out some unique ideas addressing how to better prepare patients and family for and experience their end-of-life journeys. In modern times,  there has been a conversational taboo to talk about death, especially our own, leaving many without a plan to guide them and their loved ones when that time comes. Innovation in this space is needed, motivated by personal experience and the opportunity to make a real impact on the way we plan for and manage death.
One team wanted to find a solution to comforting end-of-life patients, driven by their own personal involvements of communication complications during a loved one's end-of-life experiences. This team compiled ways a wearable prototype could simulate an image of a loved one, and after deliberation and brainstorming came up with crafting an interactive robot.  After consulting with our Product Development team on-site with this ambitious goal, our team suggested instead of creating a working robotic being, to instead construct a wearable prototype that one of their members could wear. They used the woodshop and the textiles setup to complete their prototype, and even crafted a helmet with an iPad attached to better recreate the image of loved ones. They aimed to create a product that would allow patients to be comforted by anyone from their lives, even if that loved one couldn't physically be there with them.
---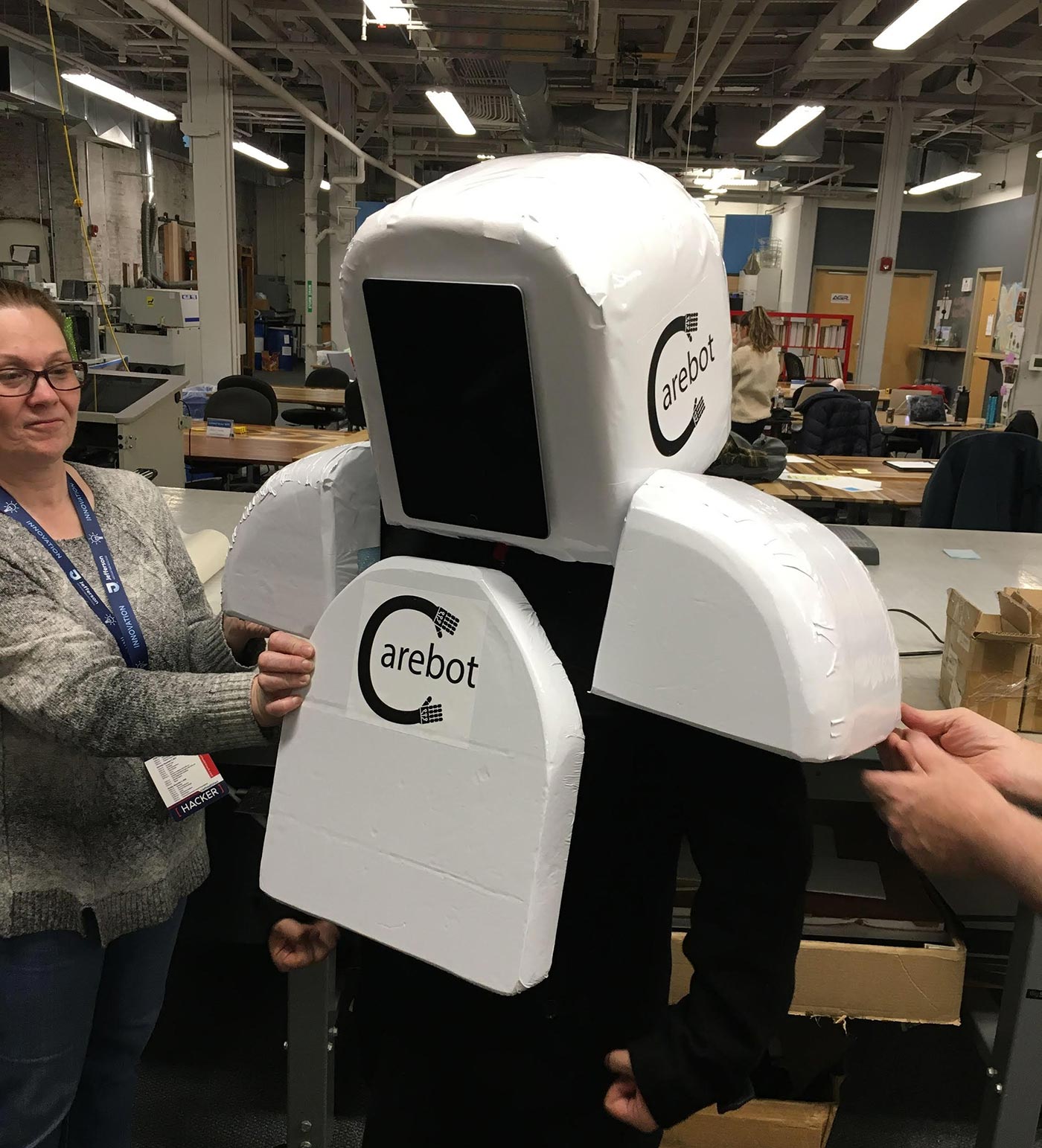 The "Reimagining Death" team try on their "Carebot" prototype.
---
Interested in learning more about our Product Development team or your own hardware development product? Learn more about our offerings HERE.