---
It was just about one year ago when when the Covid-19 pandemic hit in March of 2020. NextFab had to shut down our facilities and employees shifted to working from home. It quickly became apparent that supply of personal protective equipment (PPE) for essential healthcare workers was in short supply and becoming a crisis of its own. We wanted to help. When we heard about an effort to develop a novel, origami-based mask, our team enthusiastically jumped in.
---
PPE Scarcity for Healthcare Workers
In the early months of the pandemic, demand for traditional medical-grade masks skyrocketed. Manufacturers were unable to keep up. This forced many essential healthcare workers to reuse masks which left themselves and their patients at risk. There were some DIY mask solutions circulating, but it was unclear if they were safe enough to protect against the coronavirus.
The local Philadelphia innovation ecosystem recognized this need and sprung into action. NextFab president, Evan Malone, was a founding member of CoverAid PHL, a coalition of representatives from hospitals, universities, manufacturers, government, and small businesses working to increase the supply of PPE. Various groups of our peers in the product development industry formed to design and produce ventilators, face shields, masks, and other PPE. Among those groups was one formed by local medical device development company, Archimedic, NextFab, and local healthcare and university partners. The group's goal was to design and produce a mask using an origami-inspired design made from high-filtration material that could protect healthcare workers in a pinch.
---
The Origami Mask
The origami mask started as an idea from Eric Sugalski, president and CEO of Archimedic. He realized that origami techniques could transform a flat sheet of material into a 3-dimensional shape that contours to the face of a wearer. A mask made from high filtration material using these methods might approach the fit and filtration ability of an N95 respirator, the industry standard. It wasn't intended to replace medical-grade masks, but it could be a back up option if hospital mask supplies ran low. A major benefit of the design is that this mask could be produced without specialized manufacturing equipment. The original face mask was made by hand using a vacuum cleaner bag, a zip tie, and 2 rubber bands.
---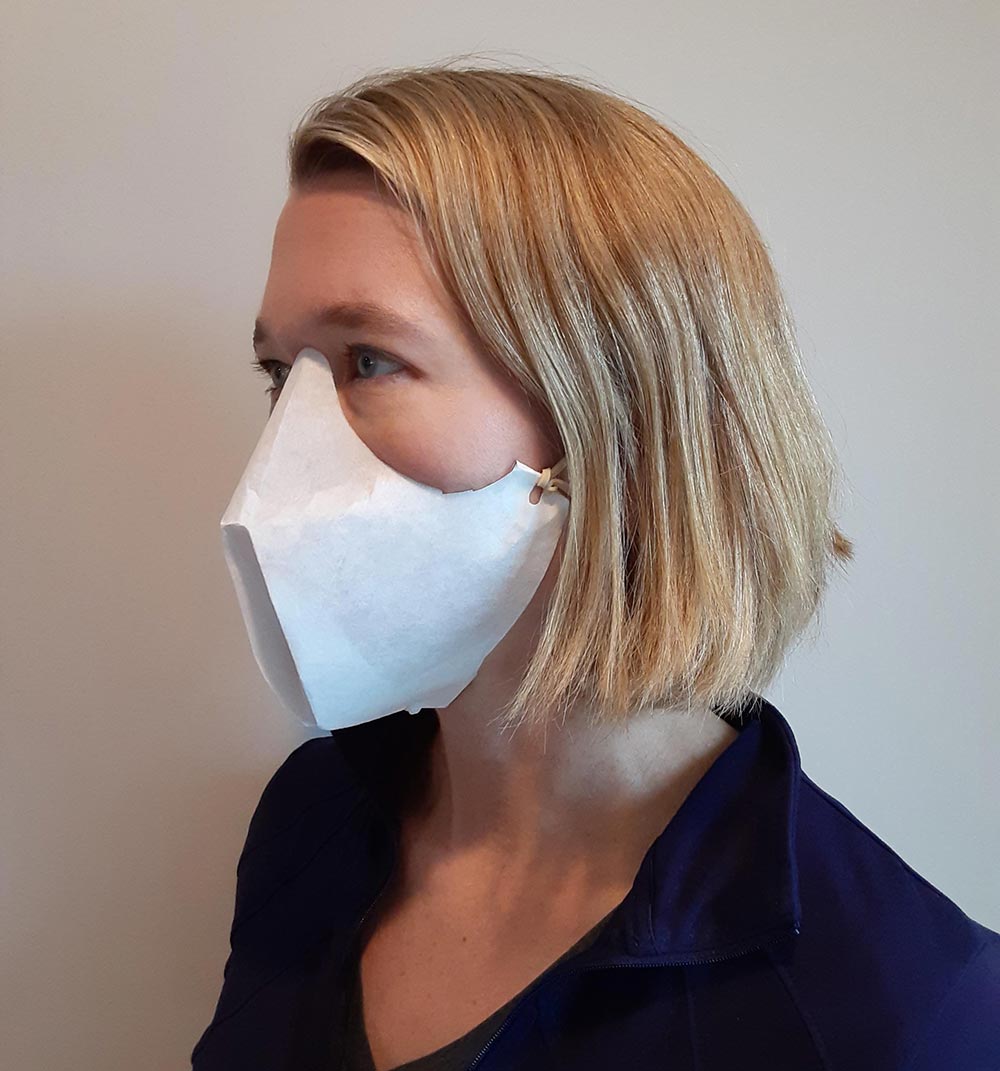 Eric's original origami mask prototype.
---
The challenge for the team was to take this concept and turn it into something that met user needs and could be readily produced. NextFab was responsible for prototyping, collaborating on design, production, and manufacturer engagement. Other team members took the lead on hospital stakeholder engagement, sourcing, and testing. With the partners assembled and an initial design in hand, the NextFab team was ready to start iterating and prototyping.
---
Initial Prototyping
Made of just three elements – mask body, nose piece, and headband – the origami mask has an elegantly simple design. We took advantage of the equipment at NextFab and our team's creativity to prototype and iterate through designs quickly.
We used out lasers to cut the mask body patterns from raw sheets. This process quickly produced accurate mask patterns so we could focus our attention on the more manual and time consuming folding process. One of the project leads, Ross Stoops, was uniquely suited to take on this task. He studied fine art printmaking and book arts at the University of the Arts, so he had experience with origami and working with paper-like materials. Ross leaned on this expertise to streamline the folding process and cut mask folding time in half while ensuring a consistent result.
We initially made the nose pieces in-house from thin sheets of aluminum backed by double-sided tape. NextFab metal shop manager, Justin Johnson, took the lead on this effort and was able to similarly improve the process and save valuable time. The team initially made the headbands out of the mask material but also created versions using rubber bands.
We produced the first batch of prototype masks within a few days of kicking off the project and our partners quickly got them over to frontline healthcare workers for testing. As the design evolved, we were able to use these processes to produce new prototypes quickly without a hitch, cutting iteration cycles from days to hours.
---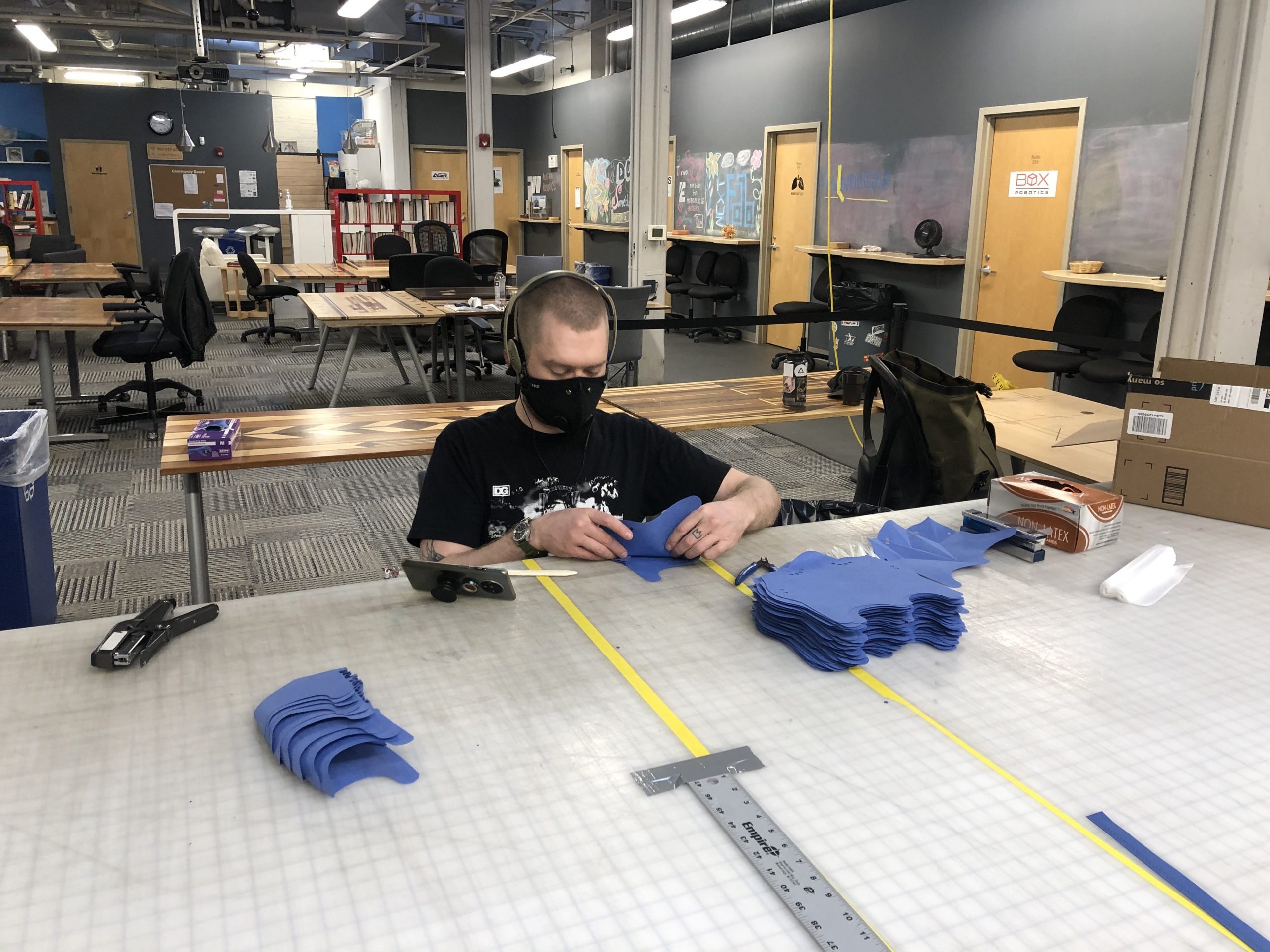 NextFab metal shop manager Justin Johnson hard at work folding.
---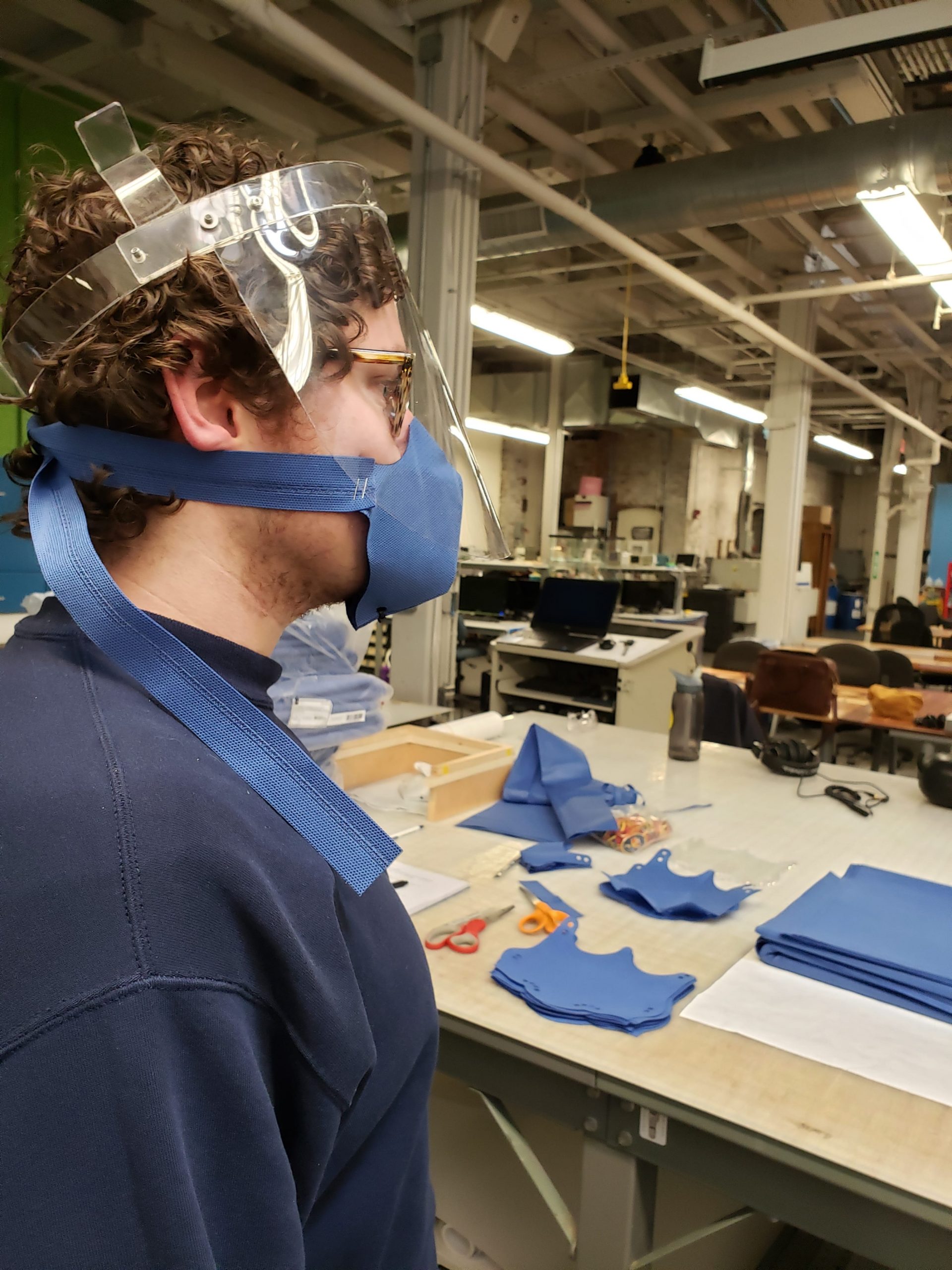 NextFab Wilmington location manager Ross Stoops trying out an early prototype.
---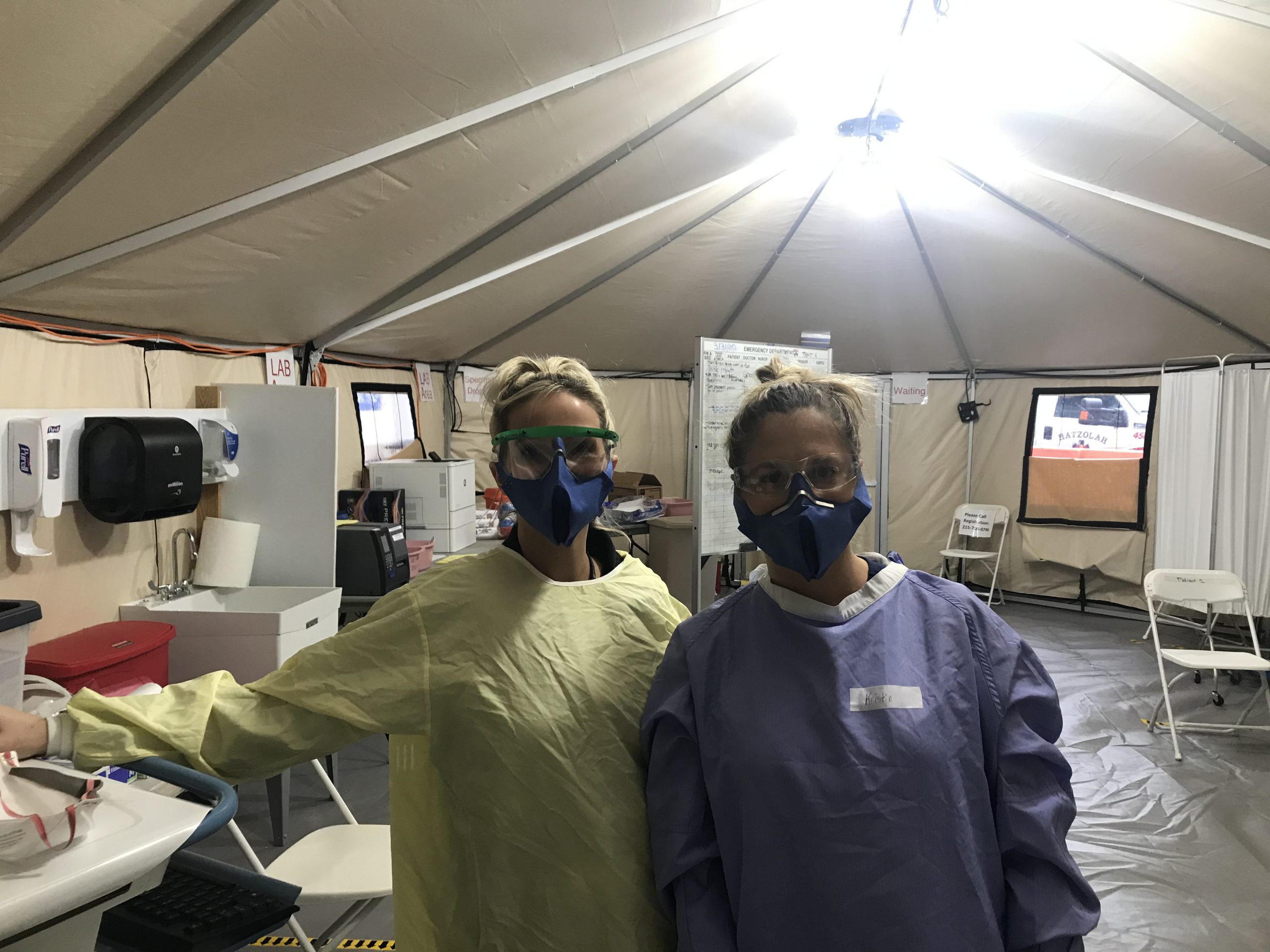 Hospital staff testing masks in the field.
---
User Feedback and Design Optimization
Anytime you are able to get an early prototype in the hands of end-users, you get valuable feedback. This is the core of our strategic, user-centered product development approach. This project was no exception. Users were enthusiastic about the masks in general. They reported that the tight fit was an improvement over looser fitting surgical masks. The cupped shape also made it comfortable for prolonged use.
On the other hand, users identified that some of the nose pieces peeled off over time. This could compromise the seal between the mask and the user's face, making the mask less effective. They also noted that the rubber band headband created a better fit and was preferred to the tied headband, but the rubber bands had to be latex-free for hospital use. The fit was also too tight for some users. Armed with this feedback, the team reconsidered the design to address these shortcomings.
To secure the nosepiece, we stepped back and considered other attachment methods. Could we embed the nosepiece between layers of material like a traditional surgical mask? Could we weave the metal through slits in the material? Ultimately these options proved to be too time consuming to produce, so we returned to adhesives. After taking a deeper dive into potential options, we found a high strength adhesive film designed to work with difficult to bond materials like the one we were using. During our research we learned the importance of applying a constant force to the bond over several seconds to get a good result. This led the team to design and build a custom pneumatic press to automate the process and drive consistency. The combination of the new adhesive and improved process resulted in a reliably strong bond.
To get the fit right for users with various head sizes, we prototyped and tested various band designs. We tried long bands, short bands tied together, and elastic. Ultimately, we found that using two 7" non-latex rubber bands looped together delivered the right amount of stretch to fit most people.
---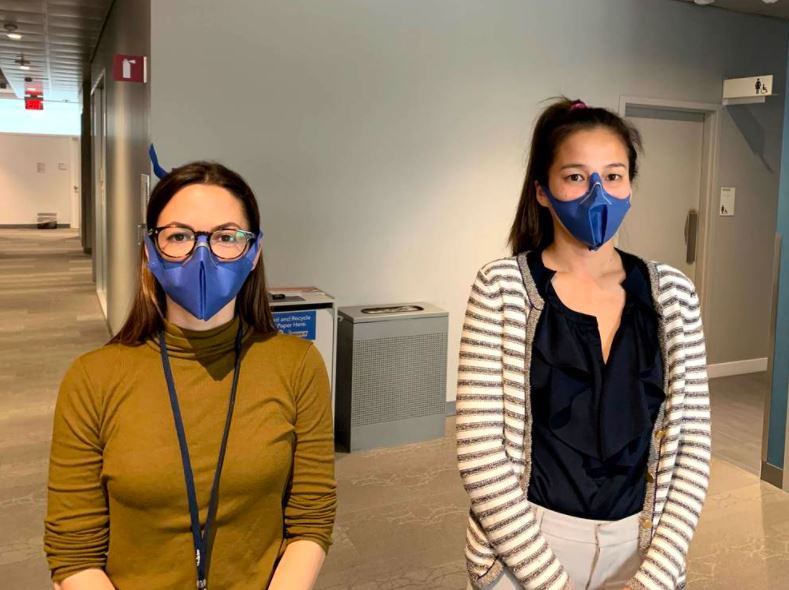 Early prototype testing with end-users.
---
Production Scale-Up
As the team was finalizing the design demand for masks was escalating. Two local healthcare systems ordered 11,000 origami masks to serve as a backup for their staff if supply ran low. The opportunity to help frontline workers immediately energized the team. At the same time we were faced with the daunting task of standing up a factory during a pandemic. Our team quickly transitioned from design mode to production mode. While we often help our product development clients engage with manufacturers to produce their products, we don't manufacture the products ourselves. We knew that we needed to set up processes to make the masks quickly, but also consistently and safely.
To meet our commitments, we needed to engage more of our team. Ten staff members from other parts of NextFab's business eagerly jumped in to get their hands dirty and help.
Our production teams broke into two groups, one operating at each of our Philadelphia facilities. The North Philly team took on cutting the mask patterns and folding them into the mask body shape. The South Philly team focused on folding, final assembly, and quality control. The two crews collaborated seamlessly, sharing folding best practices and shuttling materials back and forth to keep production moving.
---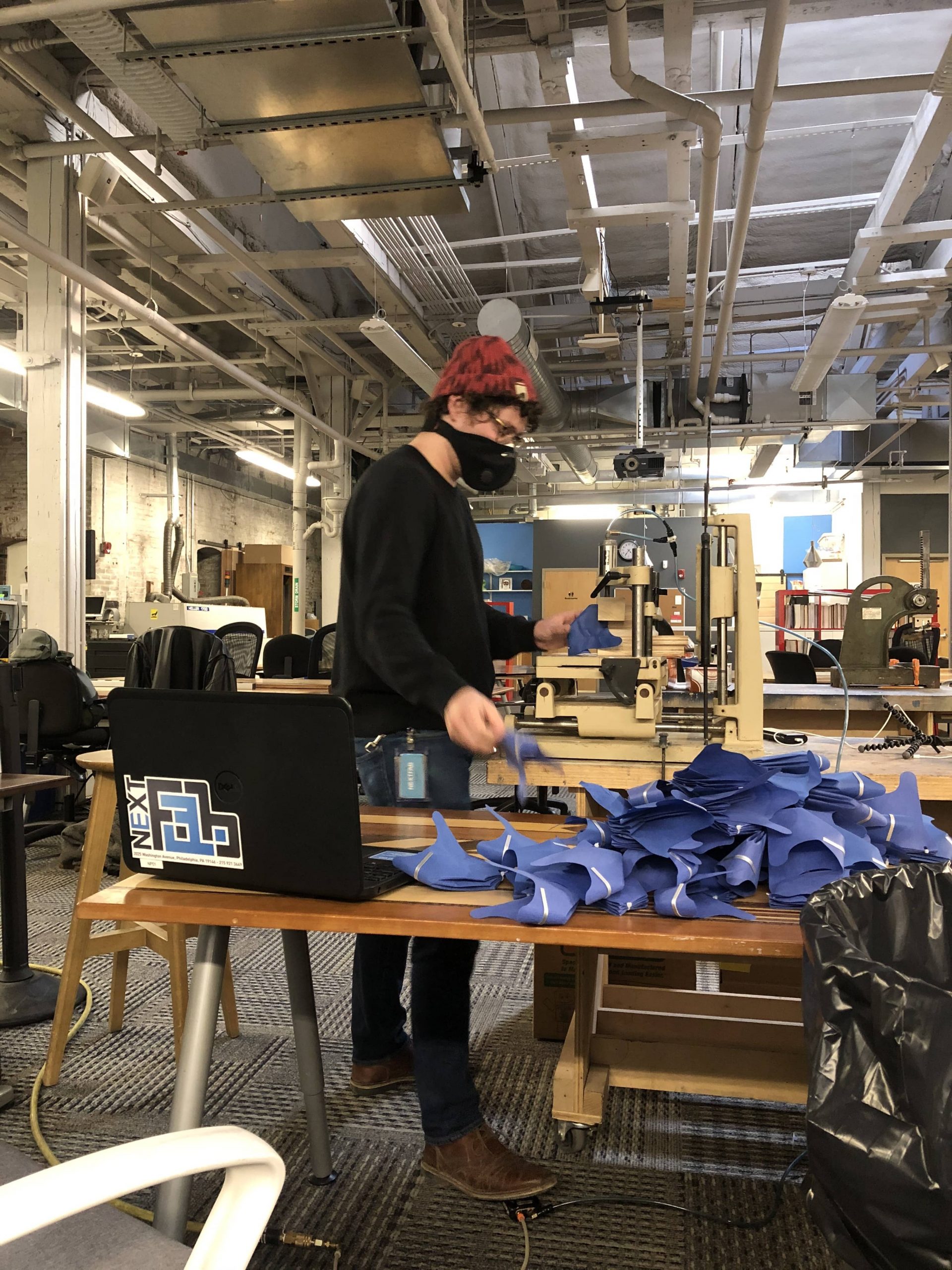 Ross applying nose pieces using a customized pneumatic press.
---
Being a creative bunch with a wealth of fabrication experience, everyone was on the lookout for ways to optimize production. Early on in the process, we identified cutting the mask patterns as a bottleneck in our workflow. If we could find a more efficient way to complete this step, we could speed up production. One of our colleagues realized that our heavy-duty die cutting machine was the answer. A few hours and a custom die later, we were producing thousands of patterns per day.
Another optimization was to outsource fabrication of the nosepieces to a local manufacturer. REP Industries, located in Lansdale, PA, was a valuable partner in this effort and was able to produce 11,000+ nosepieces in under 2 weeks.
---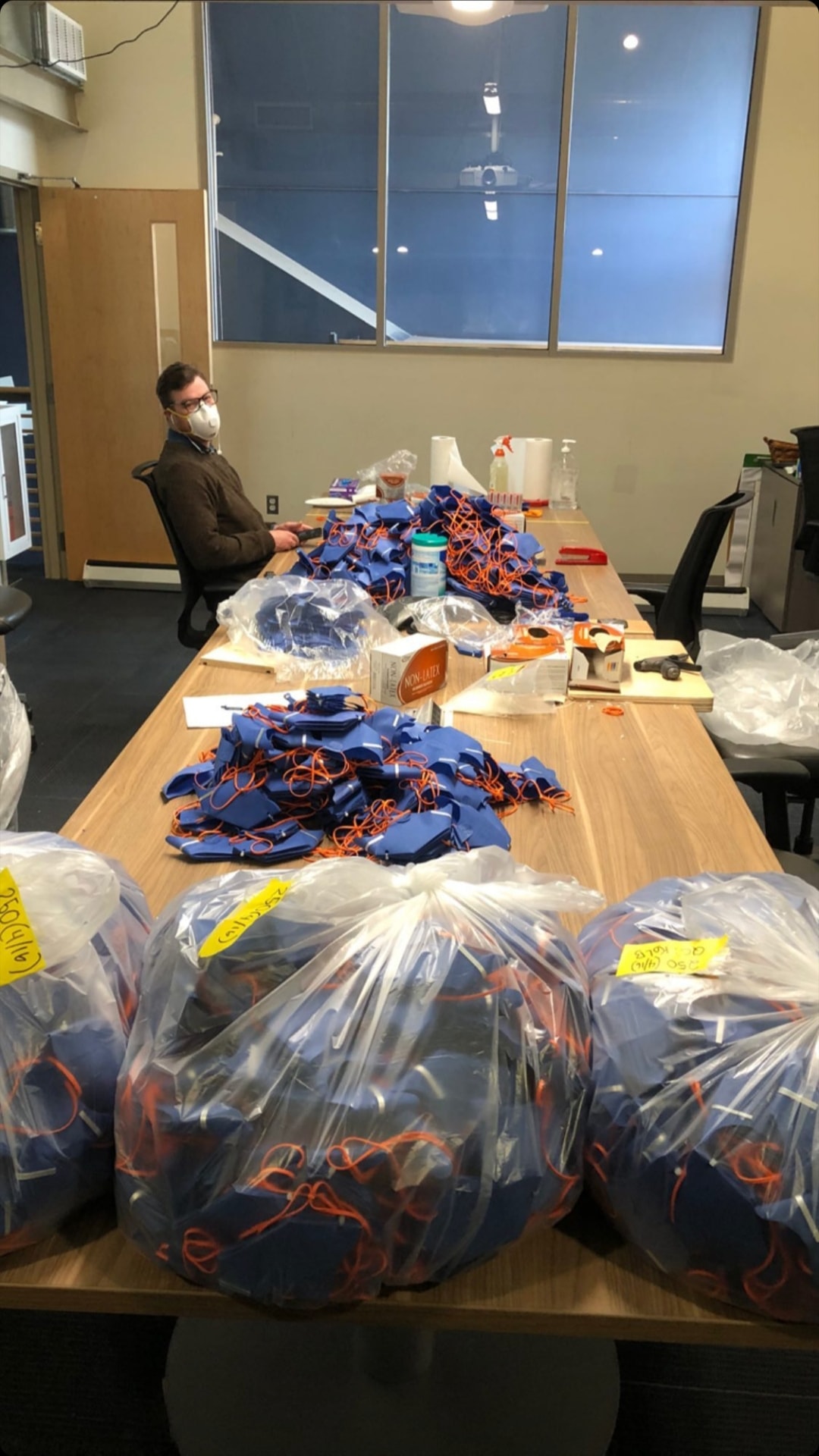 NextFab Assistant Director of Member Services Ryan Hyde doing a final quality check and packaging masks.
---
After lots of hard work, collaboration, and creative thinking, we produced and delivered 11,000 much-needed masks to Philadelphia-area healthcare providers. We are honored to announce that we were awarded the PHL Chamber of Commerce Inspiring Excellence Award for our work.
In the end, we're grateful for the opportunity to help those on the front lines of the pandemic. We're a stronger team for having overcome the challenges of bringing the origami mask concept to fruition. We look forward to applying what we learned to our future work.
---
Interested in learning how our dedicated and innovative team can help you transform your hardware product ideas into reality? Click here to schedule a call with our team.